WHAT IS THE BEST TIME FOR JAPAN TO VISIT?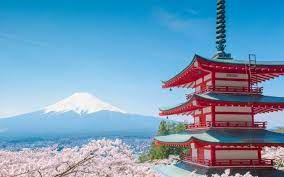 Japan! We have missed you so much! We have missed you! Our staff often asks this question: When should I go to Japan? Here's our list of the top months to travel and why it should be on your bucket list next year.
JAPAN'S BEST TIME TO VISIT
Japan is a great place to visit! It all depends on your mood, but there is a time and a temperature that suits everyone.
SPRING
Cherry Blossom season! Japan is famous for this. It's because who wouldn't want to feel like they were floating in a sea of pink and fluffy clouds? Spring weather is usually pleasant, with occasional rain showers to spice things up. This is also the busiest time to visit Japan, so that it can be more crowded than other months. We do our best to beat the crowds at the most popular spots, but we recommend planning. If Sakura season is on your bucket list, this is the best time to travel to Japan.
Highlights:
Higashiyama Hanatouro (March), Kyoto – 2500 bamboo lanterns illuminate the night sky during this festival, which is one of the most anticipated events of the year.

Sakura or Cherry Blossom season (April-May) is a famous festival that celebrates the end of winter and the start of Spring with millions of blossoms.

Nemophila flower blossoms, Hitachi Park (April to May) – If you want to beat the crowds, travel 2 hours from Tokyo to Ibaraki, a seaside resort. The rolling fields of blue flowers will make you feel like you are walking on the clouds.
Average temperatures in Spring in Tokyo:
From 10degC to 20degC
SOMMERS
It's off-season! Due to the high humidity and the occasional rains, summer is Japan's quietest season. This time of year is ideal if your goal is to avoid crowds at Cherry Blossom festivals. If you visit in late summer, you might even enjoy spectacular festivals. It's a great season to consider when looking for the best time to travel to Japan.
Highlights:
Summer is the best time to climb Mt Fuji. Although Mount Fuji's weather can be unpredictable, summer offers clearer views. If climbing Mt Fuji is on your Japan bucket list, it is recommended to visit in the summer.

Gion Festival, Kyoto (beginning to mid-July) – Gion Festival is one of Japan's largest festivals. It celebrates Japanese culture with lanterns and huge parade floats.

Tokyo Olympics (23rd Jul-8th Aug) – The 2021 Olympic Games are scheduled to occur in 2021!

Fuji Rock Festival (August). If you love live music, this festival is right for you. This is Japan's largest outdoor music festival, with over 200 Japanese and International performers coming together and approximately 200,000 people attending every year.
Tokyo temperatures
24degC to31degC
AUTUMN
Japan is the new king of Instagrammable seasonal leaves. Momiji refers to the stunning red autumn leaves found all over Japan. Unlike the short-lived cherry blossoms of Spring, they last for a few months. These months are the best if you're looking for the perfect time to travel to Japan.
Highlights:
Tokyo Ramen Show (October) – If you're visiting Tokyo in October, we hope you're a ramen lover! We are kidding! Japan's experts show us there is more to ramen than noodles.

Kishiwada Danjiri Matsuri (September), Osaka – This festival is the wildest in Osaka, with 3000kg shrines and temples lining the streets.

Sapporo's Autumn Fest (September) – If authentic Japanese food is your passion, Sapporo's Autumn Festival is the best festival in Japan. Enjoy Japanese delights, and then wash it down with delicious Sake.
Tokyo temperatures
7degC to 22degC