Ultimate Guide To Visiting Cape Leveque & Dampier Peninsula, Western Australia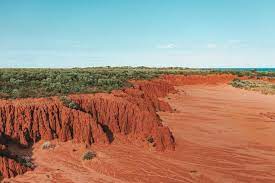 The Dampier Peninsula, a hidden gem on Australia's northwest coast, is an undiscovered treasure. This area is an unspoiled wilderness with white sand beaches. It also has crystal clear and shimmering waters.
Cape Leveque is the most popular attraction in the region. It is known for its vibrant red cliffs and traditional Aboriginal heritage. We have good news for those who once considered Cape Leveque an inaccessible place. The road running from Broome to Dampier Peninsula has been sealed. So pack your camping gear and plan for a Dampier Peninsula road trip!
Dampier Peninsula and Cape Leveque
Cape Leveque is the main draw of the Dampier Peninsula. The beauty of the cape's wild coast and wilderness makes it so popular. The peninsula is called by the local Indigenous people, which means "northeast". This area is rich in traditional history and has been sparsely inhabited for many centuries by small remote communities.
The beaches have unspoiled beaches, are full of trees, and are home to abundant wildlife. The peninsula was once considered remote and difficult to reach by road. Thanks to the newly sealed road, it's now a destination for culture and nature off the beaten path.
Where is the Dampier Peninsula?
The Dampier peninsula is located in northwest Australia, along the coast of Western Australia. It is located 200km north of Broome and is surrounded by the beautiful Indian Ocean.
How to get there
Recent improvements have sealed the main Dampier Peninsula road from Broome to Cape Leveque. While there are still many off-shoots that require a 4WD vehicle with high clearance, the main route can be accessed by any vehicle.
Broome Road is 20km from Cape Leveque. At the end of this road, turn off for Broome-Cape Leveque Road. You can drive the sealed road all year round to Cape Leveque. It takes approximately 2.5 hours.
We found the ride quite smooth, but you still need to be careful. Weather can also play a major role in driving conditions. There are no overtaking lanes. Before you set out on your trip, check the Road Safety Commission's Guide to Safe Driving.
Dampier Peninsula's Main Attractions and Things to Do
Cape Leveque
The main attraction for visitors to the Dampier Peninsula is Cape Leveque. It is no surprise that the stunning unspoiled beaches and the breathtaking red cliffs make this a unique experience. It is an eye-opener to see the contrast between turquoise water, vibrant cliffs, and white sandy beaches.
Both swimming and snorkeling are popular activities in Cape Leveque. A lighthouse can be found on the cape, which is great for whale watching during the season. The world has praised Cape Leveque fishing, and locals encourage you to explore this region and learn about its rich Aboriginal history.
Kooljaman at Cape Leveque
Kooljaman, a remote wilderness camp owned by the local Indigenous Bardi Jawi community, can be found in the middle of nowhere. It is known for its breathtaking scenery and eco-conscious beachfront campground. This award-winning spot has won accolades in Eco-Tourism and Indigenous Tourism and Unique Accommodations and Cultural Tourism. Enjoy a day on the beach before heading to Raugi's Restaurant and catching the stunning sunset over the Bay.
Brian's Tagalong Tour
A cultural tour led by Brian Lee, a Bardi tour guide, is a must-do on any trip to Kooljaman. Brian's Tagalong tours of Hunter Creek give insight into traditional fishing and crabbing and culminates with a bush tucker lunch beneath the trees. This is the best way to see Kimberley from a local's point of view.
Cygnet Bay Pearl Farm
Cygnet Bay Pearl Farm can be found on the Dampier Peninsula's eastern side. It is an icon in Australia's pearling industry. Along with many other points along the coast, the Bay's sandy banks and tidal creeks are ideal oyster habitats. The Bay is surrounded by stunning views from nearby islands and has rocky shores. The farm offers several boat tours, allowing visitors to see the Dampier Peninsula from the water. We recommend the Sea Safari Tour to see the great tides and journey to the waterfall reef. The Cygnet Bay Restaurant offers pearl meat and a delicious meal.