Guide to Visiting the Bungle Bungles Purnululu National Park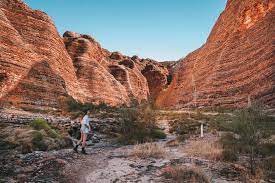 Purnululu is located in Western Australia's Kimberley Region. It is a natural wonder nestled among the red sands and rocks of the Kimberley Region. The famous striped domes, known as the Bungle Bungles, dot the semi-arid landscape above the savannah grasslands.
Purnululu's spectacular rock formations have been designated a UNESCO World Heritage Site. It boasts spectacular hiking trails that take you through dramatic gorges, ancient cliffs, and rich Aboriginal heritage.
It was an amazing experience to explore the park with our 4WD Troopy. Here's all you need to know about Purnululu national park.
About the Park
Purnululu is an Australian World Heritage Site found in the Kimberley Region, Western Australia. The region is well-known for its natural beauty and ancient geological phenomena. Purnululu National Park, which is listed as an Australian World Heritage Site in the Kimberley Region of Western Australia, is one example. Its bizarre domes with orange and black bands look almost like a beehive. The Bungle Bungle Range domes are a stunning example of cone-karst made of sandstone. purnululu means "sandstone" in the local Aboriginal language. This area is unique globally and has existed for 350 million years. Over the last 20 million years, the cone karst and sandstone have been eroded to form impressive gorges and one of Australia's most unusual landscapes. The rock formation, which rises 250m above the semi-arid grasslands surrounding, is the only one made public since 1983. It was designated a World Heritage Site by the United Nations in 2003. For those who want to experience the beauty of the Bungle Bungle Range and its stunning scenery, land and air tours are available.
How to Get There
It isn't easy to get to Purnululu National Park; we won't lie. It is located in northern Western Australia and almost at the border with Northern Territory. It takes approximately 8 hours to get to Spring Creek Track from Broome. The track is more than 30 hours from Perth.
Kununurra is the nearest major town to Purnululu Park. It is 250 km. Kununurra can be reached from many Australian cities, including Perth, Darwin, Broome, and Broome.
You can book scenic flights over Bungle Bungles from Kununurra or take a guided 4WD tour. However, if you are like us, the self-drive adventure is lengthy but well worth it.
Follow the Great Northern Highway to the Park Turn-off 100kms north of Halls Creek for a wild ride. Although the track is only 53 km, it is very corrugated. It takes between 2 and 3 hours to complete. It isn't easy to ride on top grooves because of the many creek crossings and twisting corners.
Is Purnululu National Park Open?
Purnululu national park is closed between April and November during the dry season. However, it can be opened in other seasons depending on the weather. To avoid park closures, always check the park alerts before your trip.
Things to Do in Purnululu National Park
You can enjoy the Bungle Bungle Range's beauty from either the ground or the air. It is worth taking a scenic flight to see Bungle Bungles, but it is well worth the effort to get up close and personal with them on their spectacular walking trails.
Top Attractions in the Southern End
The region's main attractions are located at the Southern End Purnululu Park. Here you will find the famous Bungle Bungle domes and many hikes suitable for all levels of fitness. It is possible to spend an entire day exploring the southern end of Purnululu National Park. So plan. It is best to avoid sunburn by hiking in the Southern End, which has very little shade.
Domes Walk (1km)
This loop of 1 km is an excellent way to view the beehive-shaped stones up close. The trail follows the rugged beauty of the domes' orange base.
Cathedral Gorge Walk (2km)
For the amazing acoustics, the Cathedral Gorge Walk should be done. It takes approximately 2 hours to travel along the canyon's sheer cliffs. The theater will test your singing voice, and you can listen to the sounds bounce off the rocky walls.
Piccaninny Creek Lookout (2.8km)
Stop at Picaninny Creek Lookout for stunning views of the Bungle Bungle Range. This is the easiest section of Picaninny Creek and takes approximately 1 hour to explore.
Whip Snake Gorge (10 Km)
Whip Snake is located along the Piccaninny creek and leads to another of the stunning Purnululu canyons. This gorge is shaded and full of figs, ferns and brittle gums, with a small rock pool at its end. It takes approximately 4 hours to complete the walk.
Piccaninny Gorge Walk (30 Km)
Piccaninny is one of the most impressive gorges within Purnululu National Park. This challenging overnight hike is only suitable for experienced backcountry hikers. There are no facilities or signs along the trail. A permit is required and can be obtained in advance at the visitor's bureau.