10 Places to See Before You Die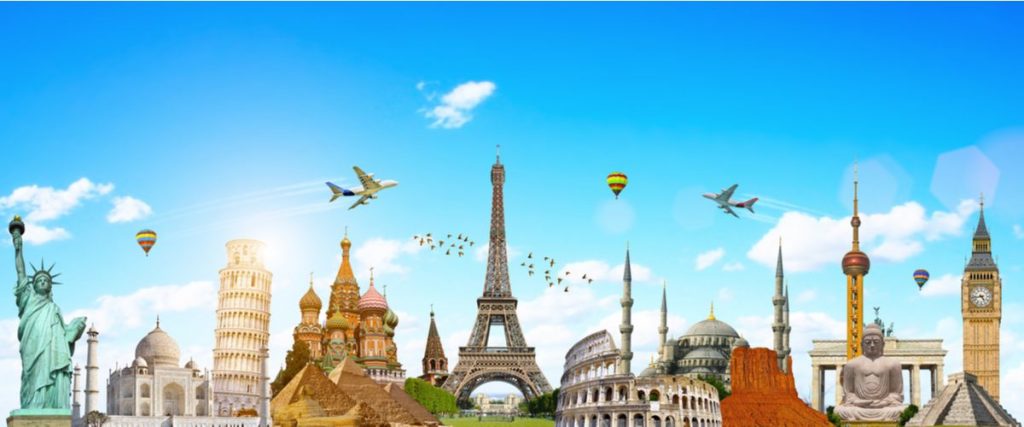 Have you got an ultimate travel bucket list? Here are some suggestions for the top places to travel, from idyllic islands in Thailand to the Pyramids of Giza. These are once-in-a-lifetime destinations.
Phi Phi Islands, Thailand
Thailand's Phi Phi Islands and its beautiful beaches have increased in recent years. This six-island group is Thailand's oldest community, dating back to prehistoric times. Because the underwater life here is diverse and fascinating, scuba diving is very popular. On their underwater adventures, vacationers have seen leopard sharks and dolphins and black-tipped reef sharks. It's the most popular time to visit Krabi when there is little rain.
Greece Santorini, a volcanic island, is most well-known for its stunning views and inspiring sunsets. It also has colourful pebble beaches. Many villages along Santorini Island feature traditional architecture, authentic wineries, and ancient ruins. Fira is the capital city and boasts white cobblestone streets, shops. Oia is a town located along Ammoundi Bay, with its whitewashed walls & majestic blue domes. It has some of the island's most stunning sunsets. You can visit Santorini between May and October. It is possible to reach the island via ferry or airline charter.
Machu Picchu, Peru
Machu Picchu, high in the Andes Mountains, is the location of an Inca city. It is also a UNESCO World Heritage Site. Although Machu Picchu is home to some of the most beautiful ruins anywhere in the world, it can be quite crowded during peak seasons. Hiking the Inca Trail is a popular activity, but you need to reserve your spot at least a month in advance. Hikers also love the Salkantay Trek and the Inca Jungle Trek. Many tour companies offer adrenaline-filled excursions to Machu Picchu, including biking, hiking and rafting.
Grand Canyon, United States
The Grand Canyon, which spanned over 200 miles and was created by the Colorado River over thousands of years, is one of the most stunning geological wonders in the world. You can take your time to admire the canyon's huge gorges and rock formations at a variety of vantage points. The strenuous climb to the bottom on the Rim Trail or Bright Angel trail will delight thrill-seekers. Many guides offer whitewater rafting trips in the canyon of the Colorado River. Because the temperatures are lower and crowds are smaller, March through May, September through November are the best months to visit.
Positano, Italy
Positano is one of the most romantic spots on the Amalfi Coast in Southern Italy. You can expect charming Medieval architecture, colourful pastel houses, and some of the finest Italian cuisine. It was first built on a cliff face and became a popular destination for writers and artists in 1950. Walking is the best method to move around. However, it would be best if you were ready to climb many stairs. The city has mild weather all year, but the peak season is from April to October. You will find many boutiques selling high-end clothing. Don't forget to try the speciality drink, Limoncello.
Aurora Australis, Antarctica
The Aurora Borealis is found at the North Pole, but the South Pole has the Aurora Australis. Antarctica's wild and unspoiled continent is where you can see the Aurora Australis or "Southern Lights". It can only be seen from the southern latitudes, and it has never been seen above the 30-degree latitude. It is often visible as a glowing green curtain or red light in the night sky. Although there is no definitive aurora cycle, these phenomena are often associated with solar wind activity. They also occur at the peak sunspot cycles. Auroras are truly a photographic dream and a once in a lifetime experience.
The Dolomites in Italy
The Dolomites, a mountain range located in northeastern Italy's Dolomites, are one of the most popular hiking destinations in the world. Be aware that the Dolomites' 18 peaks are susceptible to flooding, avalanches and landslides. Skiers and mountain climbers love the Dolomites, part of Italy's Alps. Since the 1800s, free climbing (climbing with no safety gear) has been a common activity. Paragliding, base jumping and hang gliding are also popular. Visitors congregate around Rocca picture, near the Marmolada Glacier, and in the valleys at Badia Gardena, Fassa, or Fassa.
Galapagos Islands
The Galapagos Islands are home to some of the most exotic and rarest species of plant and animal life in the world. Galapagos consists of 19 islands that are part of Ecuador. They can be found 1,000 kilometres off the Pacific Ocean coast of South America. Naturalists and historians are most active between December and May. However, wildlife can also be active in July and August. Boat tours are the best way to explore these islands. You should book your boat tour well in advance. Visit the Charles Darwin Research Center's giant tortoise breeding program for a great view. You can also snorkel to see marine wildlife. Finally, climb the Bartolome hill.
Yosemite National Park (United States
Yosemite National Park, located in east-central California's Sierra Nevada Mountains, is known for its waterfalls and granite cliffs. It also has giant sequoia trees. Yosemite National Park is visited by approximately 4 million people each year. They offer 800 miles of hiking trails, 350-mile roads, and 1,600 miles of streams. During their stay, visitors may come across black bears and mule deer as well as bighorn sheep, bats, or other animals. The park's weather can change rapidly, and the mountain's elevation plays an important role in how many snowfalls. It would help if you hiked to the parks' magnificent landmarks, El Capitan and Half Dome, Tunnel View, Yosemite Falls, and Tunnel View.
Pyramids of Giza in Egypt
The Great Sphinx and the Pyramids of Giza are located just outside Cairo, Egypt. These pyramids were built to be the final resting place of pharaohs and are the only remaining ruins of the original 7 Wonders of the World. The area is vast, and most visitors opt to hire a car or take a tour to see the pyramids. You will need a guidebook to help you find the most important landmarks and tombs. The Great Pyramid of Khufu is the most well-known, made up of more than 2 million blocks. Also, the Pyramids of Snefuru and Khfre are popular.