BEAUTIFUL WALKS ABOUT THE GOLD COAST ARE NOT TO BE MISSED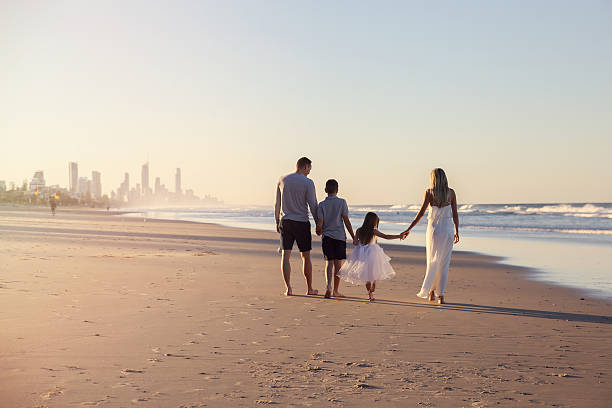 Ask us about our favorite way to see a place, and we will most likely tell you that walking is it.
Wandering around can bring you more opportunities, whether it's to find a secret beach, backstreet cafe, or hike up a hill.
The Gold Coast is no exception, and you have many Gold Coast walks to choose from.
The Gold Coast is known for its impressive concrete skyline. However, it was built around the great outdoors. The local council has provided excellent footpaths and walking tracks for active residents to enjoy their backyard. It's why we love living on Gold Coast.
It feels like midday when you get up on the Goldy at 6 AM. Everyone is out walking, biking, and surfing. It's easy to get lost in the energy and excitement of the place.
The best thing about a Gold Coast bushwalk is that it's free, and you can take in more of the area. We live on the Gold Coast and don't have a car.
Instead of rushing to get somewhere or sitting in traffic, you are taking in the sights and enjoying the pleasures of the area.
After you're done with the beach and the theme parks, it's time to get active. Take a walk on the Gold Coast's amazing bushwalks.
Burleigh Heads National park
Burleigh heads a favorite spot on the Gold Coast. However, for reasons I don't know, we have never been to Burleigh's National Park.
This walk has been recommended many times to us as being one of the most popular and beautiful walks on the Goldy. We finally did it.
For the Gold Coast hike, we recommend getting up at 5 AM. Takeaway coffee from Nook Espresso and then go to the point to catch the spectacular sunrise while watching the surfers at one of Australia's most renowned point breaks.
After you have had your morning coffee and are inspired by the surfers' moves, go on the beach view and walk through the rocky headland.
The Gold Coast's natural headland is wild and offers walking trails along the foreshore and the rainforest. You can also see whales in spring, as well as sea eagles flying along the coast.
Burleigh Head is where the sea meets ancient volcanic columns. This park includes rainforest, eucalypt forests, pandanus trees, coastal heath, and mangroves.
It's the northern side of Australia's most popular surfing point break. Take the Ocean View Walk from Tallebudgera Creek to the rocky headland and marvel at the six-sided basalt columns.
You can explore the Rainforest circuit by walking through a living museum. In winter and spring, you can also watch for humpbacks at Tumgun lookout. You can see Australian brush-turkey nesting mounds as well as seabirds, water dragons and seabirds.
You get amazing ocean views and walk through the eucalypt forests as you turn the bend. This is a great way to start the Burleigh Heads National park hike.
Tallebudgera Creek is a hidden treasure on the Gold Coast. This Table is a secret spot that only locals or people who know the area will visit.
While the children played in the sand, we stopped at Echo Beach and watched as a few paddleboarders and kayakers cruised down Tallebudgera Creek.
Once you drag yourself away, head uphill to begin the rainforest walk that loops back to Burleigh.
Halfway back, you'll find Tumgun, which offers amazing views over Tallebudgera Creek.
To remind me of my wonderful Australian home, this photo hangs above our Raleigh home. Burleigh Heads would be where we'd settle if we were in Australia.
It's downhill from there. Once you reach the Burleigh foreshore, grab a drink or a picnic and take in the beautiful view of Burleigh Beach.
It's about 2.5km long and includes a portion of the rainforest circuit. The walk was easy as our two young children walked most of the way. Just keep your eyes open for young children on the ocean portion.