Tips for Your First Backpacking Trip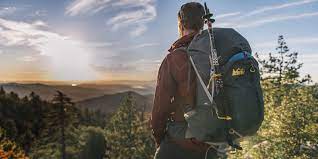 When I was planning my first backpacking trip, there was no thought process. I wanted to go outside and sleep under the stars, and it was time. Once that was settled, I picked a trail and started cramming everything into my 50-litre backpack. A smooshed bag here, a jacket there. The backpack grew so large that I could easily imagine embarking on a month-long journey across the globe, with no night spent in the wilderness.
As I climbed up the trail, the bag became an extension of my body. The bag was heavy enough that I could easily fall off the trail if gravity weren't kind. I loved the idea of sleeping under the stars, but I knew there was more to backpacking.
Today I am preparing for a 32km (20 mi) backpacking trip. As I prepare for a 4-day backpacking trip to the mountains, I am beaming with pride at the large yet compact bag at my feet. My pack jobs are now an art form. They were beautifully organized and packed with precision. Since my first backpacking trip, I have also learned invaluable survival skills and been challenged mentally and physically.
These 10 tips are based on years of experience and will help you conquer your first backpacking trip like an expert.
Do your research
You can find great resources on local websites and hiking sites, like AllTrails. These are especially helpful for selecting your route. Remember that you don't have to be a master of length and elevation yet. Your first backpacking trip should be on a straightforward route that is within your abilities. Consider trails of around 10 km (7 miles) for first-timers. Roundtrip, moderate the elevation at 150-500 m (500-1,600 ft).
After choosing a trail, plan your trip by checking weather forecasts and referring to maps. Next, think about the small details that often go unnoticed and can significantly impact your experience. What is the parking situation? Are there any obstructions on the trail? Are there permits required to stay over? It is a good idea to do your research before you go. This will make your trip much more enjoyable.
Mentally prepared
It's a challenge to carry a heavy backpack uphill. The inevitable mental challenges you'll face on the trail are often overlooked. These tough moments are worth facing with a positive attitude.
Recognize that backpacking will be hard work and will push your limits. Consider how your body is capable of so much more than you think. Pay attention to your body, take breaks and slow down if necessary. But don't stop!
When climbing up steep hills, I focus on my steps. Instead of looking at the distance, I have to climb and focus on counting each step. I give myself "rewards", such as taking a break after every 100 steps or eating a piece of chocolate when I reach a shaded tree. It's a great (and sneaky!) way to keep moving. It's a great way to stay motivated and keep moving.
Make sure you have a water and food plan.
Eating protein-rich foods and drinking plenty of water after a hard day of hiking are important. You can make dehydrated meals for the backcountry. However, you will need hot water and a stove to cook them. If you are a newbie, you can pack peanut butter sandwiches, nuts, and protein bars.
Water can be carried in water or filtered through a filter. It's possible that new hikers don't have a fancy filter, but that's OK! You can borrow one or buy something inexpensive but reliable for your first hike. Purification tablets are a good backup for water in case you run dry.
The best gear is the one that works for 
and
.
While it's true that the top outdoor brands have rigorously researched and tested their products if you are starting or an experienced pro, the best gear may not be the most expensive. Choose gear that is compatible with yours.
Instead of buying expensive boots that you have seen others wear, bring a pair of sturdy trekking shoes that are well-fitted and comfortable. Wear your new boots outside for a few days before going on your trip.