Things to Do in Phillip Island, Victoria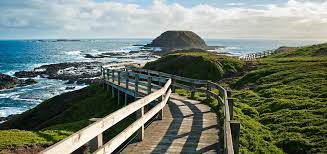 Phillip Island is a stunning destination for wildlife lovers and food enthusiasts. This small island is packed with exciting activities!
The island is located less than two hours from Melbourne and is a popular weekend escape for anyone looking for something new. The island is alive with activity no matter the season. Phillip Island is known for its international racing circuit and colony of penguins. This island's unique charm makes it truly special.
While on a Sydney-to-Melbourne road trip, we visited Phillip Island and found it a worthwhile detour. These are the top things you can do on Phillip Island if you're thinking of visiting.
How to Get to Phillip Island
Despite being an "island", Phillip Island is accessible by car from Melbourne and other parts of the Gippsland region. The Monash Freeway takes you to the island in less than two hours (142km). You'll travel around the Western Port Bay perimeter and cross the bridge at San Remo after you leave the city. Are you without wheels? You don't need wheels to access Phillip Island. You can also take the Western Port Passenger Ferry starting at Stony Point, Mornington Peninsula. It takes approximately 45 minutes to sail with a stop at French Island.
Things to Do in Phillip Island
The island is perfect for families, with great dining and stunning natural scenery. There are many great things on Phillip Island, whether you're visiting for adventure or relaxation.
Hike Cape Woolamai
Beyond the bridge to San Remo lies Cape Woolamai, home to stunning coastal views and great surf breaks. The Cape Woolamai Circuit Walk will take you to the highest point on the island. Enjoy panoramic views of the stunning coastline. Another highlight is the Pinnacles, a series of rocky granite formations that rise high during low tide. Cape Woolamai is part of Victoria's National Surfing Reserve and is considered one of Australia's best surfing beaches.
The Penguin Parade – See Penguins
Phillip Island is home to the largest colony of fairy penguins. These tiny penguins, which weigh only 1 kg, can be seen only at sunset when they make a nightly walk up to their burrows. You can see the Penguin Parade every night from the Penguin Parade boardwalks or viewing area. Tickets for the Penguin Parade are $27.25 for adults and $13.50 per child.
Visit Nobbies Centre
Phillip Island is known for its unique wildlife and beautiful scenery. The Nobbies is located at the western tip of the island and features interactive exhibits that allow you to explore the island's charm. Take a stroll on the boardwalk and enjoy the ocean views. Even see fur seals.
Visit The Koala Conservation Reserve
To see koalas in the wild in their natural habitat, you will need to travel through native bushland at Koala Conservation Centre. On our visit, we learned a lot more about the koalas and their habitat. This was a great place to get up close and personal with koalas. You can stroll along the treetop boardwalks and observe koalas hanging from eucalyptus trees as they go about daily eating and sleeping.
Walk Alongside Red Rocks And Sea Caves
Red Rock Beach has become a popular spot for a stroll along the beach or a swim. The beach at Cowes' northern coast is lined with vibrant red rocks. Surf Beach is a great place to find rocky sea caves.
Two huge caverns, the Forrest Caves, were created by cliff erosion. Many people believe that the Forest Caves are one of the most enjoyable things you can do on Phillip Island, Victoria.
Visit The Purple Hen Winery
Purple Hen, a family-owned winery that produces cool-climate wines, is located on the east coast. The vineyard has a beautiful view of the bay and Churchill Island. The unique climate and farming methods of Purple Hens result in award-winning wines which are undoubtedly the best on Phillip Island.