The Ultimate Sydney to Melbourne Drive Itinerary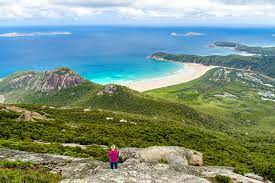 A Sydney to Melbourne road trip connects two of Australia's largest cities. It is an incredible way to travel the south coast. Many choose to drive the shorter route through Canberra, but a coastal drive from Sydney and Melbourne is worth the extra km.
The Princes Highway is a scenic stretch of coastline lined by turquoise waters and charming coastal towns. It rivals Great Ocean Road in beauty and diversity. It is a lesser-known road, but it has many hidden gems to make your trip memorable. The coast route stretches over 1000 km and includes white sand beaches, unspoiled wilderness, and penguins.
Recently, we travelled from Sydney and Melbourne on the Coastal Discovery Drive. We would recommend this trip to anyone looking for the best road trip in Australia. It's a great way to travel from Sydney to Melbourne (or vice versa) without flying.
These coastal highlights are worth visiting even if you have only a few days to travel from Sydney to Melbourne by car. The Sydney to Melbourne road trip itinerary can be enjoyed for 2 weeks, but it can be modified to fit any schedule.
Sydney To Melbourne Drive: Suggested Road Trip Stops
There are so many great stops along your journey. If you are unsure where to stop along with your Sydney to Melbourne route, we have the perfect stops.
Sydney – 3-4 days
It is an easy option to visit Sydney on any Australian trip, domestic or international. The city's vibrant food scene and endless ongoing events make it an attractive destination for all travellers. The city is brimming with art galleries, beaches, and restaurants, making Sydney a top-ranked travel destination in Australia.
Things to Do in Sydney
Take a 3-hour cruise through Sydney Harbour to enjoy a stunning view of the city. 

Enjoy a 3-course dinner of local cuisine on this dinner cruise

.

Enjoy a rich 8-course meal in lush greenery at Sydney's Royal Botanic Garden. Take in the stunning foliage and enjoy some of the best cuisines in the city.

Rent a 4-hour Kayak Hire to explore the Pacific. You can glide through Manly Cove or relax on the boat-in-only beaches.

There are so many activities that appeal to you. To take the guesswork out of planning, check out the 

Highlights Of the Sydney Half-Day City Tour

. Learn about Sydney Harbour and Bondi Beach's unique history.
Where to Stay in Sydney
Sydney has thousands of accommodation options, including hostels and beautiful vacation rentals. Our guide to Sydney's neighbourhoods will help you navigate the city. These are some of our top choices for hotels in Sydney.
Sir Stamford Hotel

: This 5-star luxury hotel is the ideal starting point for Sydney Harbour. The hotel is located in the heart of downtown Sydney and has been awarded a TripAdvisor GoldLeader status.

Cambridge Hotel

: The Cambridge Hotel, located in Sydney's food capital Surry Hills is a modern hotel close to many of the city's top spots. It is also a AAA Tourism-recognized eco-friendly accommodation.
Jervis Bay – 2-3 days
Sydney to Jervis Bay – 198 km // 2 Hours 40 Minutes
You can see Sydney from your rear windows, so head south to Jervis bay for stunning waterfront scenery. Jervis Bay is ideal for whale-watching, scuba diving, and bushwalking. This area is home to white-sand beaches and crystal clear water home to whales and dolphins.
One of the most popular roads in the region is the drive from Sydney to Jervis. The Grand Pacific Drive is a 140-km stretch that runs from Shoalhaven to the Royal National Park. This stunning stretch of sun-soaked highway will highlight your Sydney to Melbourne trip.
Stops on a Sydney to Jervis Bay Roadtrip
Enjoy the Views from Bald Hill Lookout: Pack a picnic to enjoy the stunning views of the rugged coastline and hills. This spot overlooks the Sea Cliff Bridge and is popular with hang gliders.

Drive the Sea Cliff Bridge This iconic bridge is a landmark in New South Wales. It is located high above the cliffs of South NSW, offering spectacular views of birds and marine life.

Feel the Mist at the Kiama Blowhole. Stop in Kiama, a seaside resort, to experience the mist created by lava flows. The blowhole can reach 25m in height if the conditions are right.

Wollongong is just 1.5 hours from Sydney and offers a wide range of activities. You can see the beaches and rock pools along the coast road while hang-gliders take off from Bald Hill.

Walk The Blue Mile Pathway: Stroll along this popular 500m path in Wollongong. Enjoy the stunning views of the coast while you walk, cycle, or eat along your journey.

A 

15,000ft Skydive above Wollongong

 will get your adrenaline pumping. This adrenaline-pumping adventure offers some of the most spectacular views of the city's coastline.

Surf at Werri Beach Waves crawl across the headlands, and consistent surf breaks are the norm. Werri Beach is an excellent place to spend the day, with fish and chips from the local fish market.