The Ultimate Guide to Uluru-Kata Tjuta National Park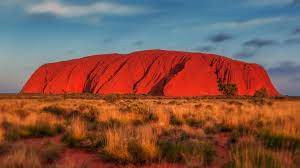 Uluru is the icon that Australia has made a worldwide symbol. The largest single rock monolith is found in the middle of the country. It is Australia's spiritual heart and has strong connections to Aboriginal culture. You must see Uluru in person to truly experience its magic.
There are many amazing places to visit inside and outside of Uluru–Kata Tjuta National Park. These incredible experiences will help you get your Uluru wanderlust going if you haven't yet visited the sacred landmark.
Is Uluru Worth Seeing?
Yes! It is a magical place you must see in person. It's impossible to capture it in photos.
Uluru at a Glance
What is the size of Uluru? How high is Uluru? The giant rock looks huge in photos. But how big is it? It's 348m high, roughly equivalent to the Eiffel Tower. It measures 3.6 km in length and 1.9km wide. The circumference is 9.4 km. Uluru's circumference is almost 10km. It can be circled in 3-4hrs.
Where is Uluru located?
Uluru can be found in the Northern Territory, Australia. It is located in desert plains, where red dirt dominates. It is no surprise that they call it Australia's Red Centre. On the Stuart Highway, Alice Springs is the closest major city to Uluru.
How to get to Uluru
Alice Springs is the closest major town but don't be fooled if it appears close on the map. Alice Springs to Uluru takes approximately 5 hours (470km) on sealed roads.
At 25 kilometres, the small town Yulara lies closer. Ayers Rock Resort dominates the town. A regional airport offers daily flights to Uluru from Sydney, Melbourne, and Brisbane. Many people fly or drive out on the famous Red Centre Way.
Common Distances to Uluru in Australia
Adelaide to Uluru: 2 hours flight / 17hr drive Brisbane-Uluru: 3 hours flight / 32hr drive
Darwin to Uluru: 2 hours flight / 19.5-hour drive
Melbourne to Uluru: 2.5 hours flight/25 hr drive
Sydney to Uluru: 3 hours flight / 29 minutes drive
The Best Time to Visit Uluru
The best time to visit Uluru is between May and September. The days are warm and sunny, with temperatures between 20-30 degrees Celsius and very little rain. It's a great place to hike and explore, with the wildflowers and vibrant colours of the park. During winter, it can get quite cold at night, with temperatures dropping to 0°C. So make sure you bring extra layers.
Entry fees:
Uluru-Kata Tjuta National Park is where you will find Uluru. This park is home to Uluru, Ayres Rock, and Kata Tjuta. Also known as the Olgas (another rock formation found about 30kms away from Uluru), Kata Tjuta is also part of this park. A park pass is required to enter Uluru Kata Tjuta, National Park. The pass costs $38 and allows you to enter for 3 days. This is the perfect amount of time to see both rock formations and enjoy the many walks in the park. You can also catch at least one sunrise or sunset. You'll also be happy to know that the 3-day pass is valid for 2 additional days. This gives you 5 days of park exploration.
Although the grace extension period isn't widely advertised, you can ask at the ticket kiosk for it. We certainly took advantage of the additional days during our trip!
Top Things to Do in Uluru, Northern Territory
Uluru offers a wide range of special activities, including riding a camel and sipping champagne at sunset.
See Uluru/Ayers Rock In Uluru-Kata Tjuta National Park
Ayers Rock is a must-see for any visitor to Uluru. It is a great way to get up close and personal with the rock by walking the 10km Base Walk on foot, on a bike or a Segway Tour. No matter what adventure you choose to take, you will learn about the area's wildlife and Anangu culture. The walk can take between 2.5-4 hours to avoid the heat.