Seattle Christmas Festive Activities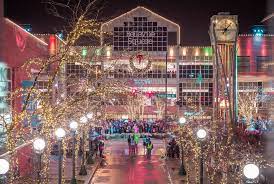 Seattle is not the most popular winter destination due to its soggy weather and overcast skies. It can be easy to mistakenly believe that Seattle is a place of doom and gloom. Locals often exaggerate this reputation to keep tourists away. The city's hidden gem in December is its unique holiday event, which trades its sombre skies to host festive events that will delight.
Although the days are shorter and the nights are longer, that's when holiday lights shine the brightest. Enjoy these great winter activities in Seattle in December.
SantaCon Magic: Experience it Now
SantaCon is Seattle's Christmas. SantaCon is a festive event that sees Santas flood the streets of Seattle every year on a single day. They spread joy and goodwill to everyone and stopped at a dozen pubs.
SantaCon is a 14-hour-long event that takes place in Seattle's Downtown. It guides participants to the most popular spots, like Gum Wall or Pike Place Market. There are also a variety of bars offering SantaCon drink specials.
Santa Claus is the most well-known holiday costume, but many other options exist. SantaCon is about creativity, from elves on strike to a conga line of reindeer. Having fun, being entertained, socialising, laughing, and feeling fully engaged in the holiday spirit is important. All this while enjoying the city's best sights on a pub crawl.
Westlake Park offers Christmas festivities.
Anyone visiting Seattle in December should make a trip to Westlake Park. The core of Downtown Seattle's shopping district is transformed each winter into a winter wonderland by having it decorated for the holidays. The Tree Lighting Ceremony, which is highly anticipated by many, is the scene's centrepiece. It is lit on the day following Thanksgiving. The Tree Lighting Ceremony is a Seattle tradition that draws thousands of people. It kicks off the holiday season with dazzling displays of light and colour.
There are many shopping options around Westlake Park. In December, there is a holiday market with local artists. You are certain to find something special for someone on your Christmas list. You can take a break from Christmas shopping by riding on the holiday carousel or turning on the nearby ice skate rink. Enjoy the holiday atmosphere with a cup of hot chocolate under twinkly lights.
Brewery Hop in Ballard
A day of brewery hopping is a great way to get outside if you don't mind freezing your buns. Ballard is a charming neighbourhood north of Seattle that boasts many quality breweries. The atmosphere is warm and welcoming in winter (and all year round, since it's Seattle, after all), with firepits roaring and tents warmed up by space heaters. You will also find a beer that will satisfy your thirst and keep you warm.
Many breweries release their winter ales in December. These ales can be found in the form of delicious porters or seasonal dark ales. Stoup Brewing and Reuben's Brews are some of the top breweries. Bale Breaker + Yonder Cider Taproom and Urban Family Brewing Co. have stunning outside spaces and delicious beer, ciders and sours.
Revel in The Glamour of The Burlesque Nutcracker
You are in for an evening of glamour and glitter with the Land of the Sweets: The Burlesque Nutcracker. This reimagined Nutcracker ballet features extravagant costumes, stunning choreography, and a jazz score composed by Jasper McCann.
You can dress up and leave your children behind while going to the Triple Door Mainstage. Here, you will join other guests dressed in fabulous and stylish attire. Enjoy a refreshing libation as you watch the Nutcracker's iconic ensemble of characters take to the stage. This includes The Rat King, Sugar Plum Fairy and Snowflakes. But with a unique and sultry holiday twist.