My Australia Bucket List: Amazing Places to See in Australia Before You Die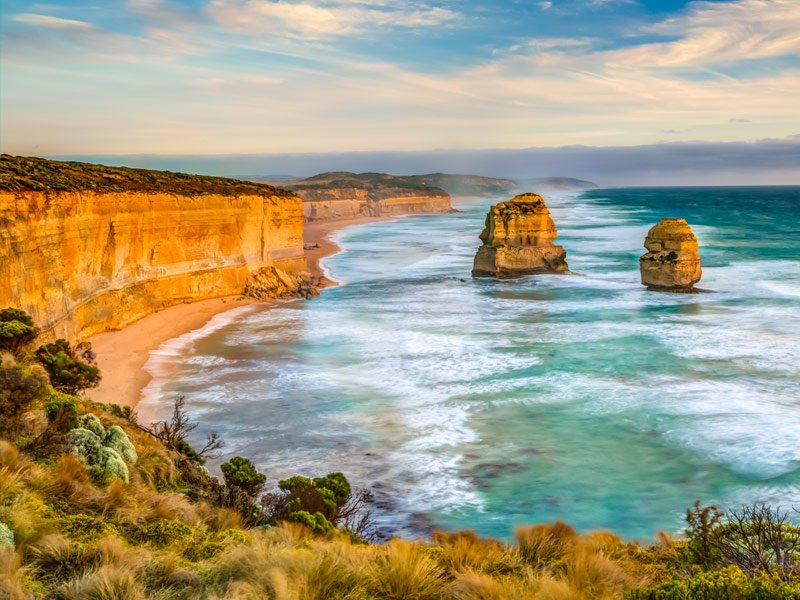 Since I can remember, Australia has been on the top of my bucket list. Before I knew what a bucket list was, I had always dreamed about exploring Australia, cuddling with koalas, and snorkelling the Great Barrier Reef. Although I haven't yet made it to Oz, my Australia bucket list has been kept, and I hope to one day be able to check off some of these items. These are the top ten places I want to see in Australia before dying.
Great Ocean Road
A road trip with a view is a great way to spend your time. The Great Ocean Road is one of my favourite coastal drives, so I'd love to rent an RV or car and drive through Victoria.
The Great Ocean Road links Torquay with Allansford. It offers stunning views, including the Twelve Apostles and miles of blue water.
The Outback
Although I confess, I haven't thought it through in detail, watching Crocodile Dundee as a child made me want to walkabout. It is still difficult for me to understand the enormity of the Australian outback. I grew up in England, where you can get from one city to another in an hour, but driving between cities in Oz can take several days.
However, I doubt I would dare to go it alone. I'd need to have a guide, a tour or at the very least, a friend to keep me company while I was exploring the vast open spaces.
Uluru
Uluru, also known as Ayers Rock, is a huge red rock located in the Northern Territory's Red Centre. This rock is considered sacred by indigenous Australians, and it is hard to beat for its pure wow factor.
It would be amazing to see Uluru rising above the horizon as I approach. It's amazing to stargaze out there. Spending the night at the foot of the red rock is on my Australia bucket list.
The Great Barrier Reef
Although I've always wanted to snorkel on the Great Barrier Reef, I have learned to dive over the years. The reef is on my Australian bucket list because I have seen Finding Nemo too many times.
This is crazy! The Great Barrier Reef Marine Park runs along Australia's northeast coast and is about as big as 70 million football pitches. It is being threatened by climate change and other threats. We need to make sure it doesn't disappear and that it continues to be a natural wonder.
Rottnest Island
OMG, how adorable are quokkas? These adorable little guys come from the same marsupial group as marsupials wallabies and are well-known for their friendliness and love of taking selfies.
They are most commonly found on Rottnest Island. Because they have little fear of humans, they often get very close to people who love taking photos of them. While I don't condone the pursuit of animals for the 'Grams, it is clear that they are cute, and I would love to see the wild.
Sydney
The Sydney Opera House is Australia's most famous building and should be on everyone's Australia bucket list. In addition to attending performances inside the Opera House and watching the fireworks display, I am sure that New Year's Eve is on my bucket list.
Byron Bay
Australia is known for its surfing, and I have heard that Byron Bay has the best waves for backpackers. Byron Bay is a popular spot for both beginners and experienced surfers. It's also well-known for its beautiful beaches, diving, whale watching, and a lively nightlife.
Lake Hillier
It is fascinating to see pink bubble gum lakes. Scientists don't know why Lake Hillier is pink. It's located off the south coast in Western Australia. However, it appears to be saltwater-loving algae or bacteria that give the lake its vivid colour.
Wave Rock
Nature amazes me every day, and I am always amazed at the natural phenomena I see. Wave Rock, a natural rock formation that looks like a breaking wave, is located near Hyden, about 180 miles east of Perth.
This area is known for its wildflowers and orchids. There are also other strange rock formations you can visit, like Hippo's Yawn or Mulka's Cave, where you can view aboriginal handprints and cave paintings.
Bungle Bungle Range
This is a new item on my Australia bucket list, but I could resist the temptation after seeing photos of Bungle Bungle in Purnululu Country, Western Australia. A helicopter ride is the best way to see the UNESCO-listed orange and black sandstone domes.
These are my top ten Australia bucket-list destinations that I would love for you to see before you die. Are you familiar with any of these destinations? Are there any other major destinations on your bucket list? Would you mind leaving comments below if you have any suggestions?