Itinerary, Road Conditions and More: Traveling the Oodnadatta Track in South Australia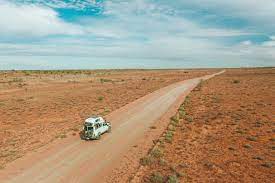 The Oodnadatta Track cuts through the red sands in northern South Australia. It is one of Australia's most remote roads. It connects Marree, in the south, to Marla, in the north. There are many unique historical sites along the route.
The Oodnadatta Track is a fun alternative for the Stuart Highway and a great way of getting to Coober Pedy. It is 620km of unpaved road, known for being a bit rough around the edges. This makes it even more thrilling.
The attraction is the track, which includes ruins of former Ghan railway stations and trickling mound springs. It also features quintessential outback scenery.
The journey was well worth the bumpy roads and dusty tracks, especially our 4WD Troopy. This makes it an amazing route to the Flinders Ranges and an unforgettable trip to Lake Eyre. Look no further if you are looking for an outback track that you can get your teeth into.
This guide covers all you need to know regarding the Oodnadatta track and its must-see stops.
The Track
The Oodnadatta track is a legend unsealed road through the outback that follows from Marree, a trading route. It is a route that runs through semi-desert with springs fed by the Great Artesian Basin. It was chosen as the route of the Overland Telegraph and the Old Ghan Railway Line. This created many unique historical sites along the route. Today, the track runs through small towns in the outback with rusty railway sidings and red sand. It is one of the most tranquil outback tracks in South Australia. This makes it an ideal adventure for any adventurous traveller.
Oodnadatta Track Conditions
Before you hit the road, it is important to check the track conditions. You can keep your drive smooth by reducing your tire pressure (around 25% is a good recommendation) and slowing down for creek crossings or rutted areas.
The condition of South Australian outback roads is affected by rain. When the track is wet, it can become impassible.
It is important to check current road conditions and follow all signage and warnings. Nobody wants to drive on tracks that are not meant for 4WD. Print a map and install a UHF-CB radio to make sure you are covered.
Oodnadatta Track Itinerary & Must-See Stops
Marree to William Creek (204 kms // 2.5 hours)
Dog Fence
The 5,400km long South Australian dog fence protects sheep within "the sheep zone" against dingoes. It's not a lot to see, but it tells a fascinating story about the history and impact of the dingo fence on the local environment. You'll find a new section of the fence just west of Marree if you have visited the one near the Breakaways in Coober Pedy.
Alberry Creek Sculpture Park and Mutonia Sculpture Park
You'll see some amazing art as you head north from Marree. The Old Ghan Railway's former siding is now used to house metal sculptures from recycled rubbish. You will see the giant metal dingo and two tall aeroplanes at the entrance of Mutonia Sculpture Park.
Ghan Railway Sidings – Curdimurka
Many railway sidings are found along the Oodnadatta Track, some in better condition than others. Curdimurka has a desalination tower and bridge that still stands tall. This is a great place to rest your legs and look at old railway history.
Lake Eyre South Lookout
Lake Eyre, Australia's lowest point and largest salt lake, are also the country's highest. The lookout at Lake Eyre South can be a great spot to stop and take in the views. You can stroll down to the water's edge (or an empty basin, depending on the year) and see this iconic landmark. Lake Eyre South, which was nearly dry when we visited it in May, was still glimmering under its salty crust. A scenic flight over Lake Eyre is a worthwhile addition to any South Australia road trip. Fly from Marree or further along Oodnadatta Track at William Creek.
Margaret Siding Ruin
Stop by Margaret Siding Ruins to view a crumbling 1800s Fettlers Cottage. The fettlers were a group of men who maintained the railway tracks while living in isolated cottages. They had to be ready to make repairs as soon as possible, and Margaret Siding was one of their basecamps.