Guide to Visiting the Charming Town of Yamba, New South Wales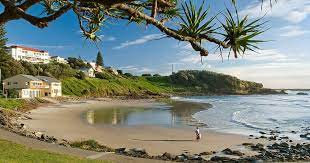 Yamba is a laid back little surfing town near the Clarence River in New South Wales in Australia. Yamba was once a place built on prawn trawling and sugar cane farming and has since grown to be a lively town. If beaches and surfing are your passion, it's a great place to stop on a Brisbane-Sydney road trip.
Yamba is well-known for its great surf breaks, but it hasn't become a hotspot like other places. Yamba has a relaxed and casual vibe that is authentically Australian, even though it's not a secret. The town's beautiful north coast coastline is stunning and has a charming vibe. New cafes and restaurants are opening all over the town, which celebrates local produce and promotes the community.
These are some of the best things to do in Yamba, so make sure you add them to your list.
How to get there
The Clarence Valley is home to the northern coast of NSW.
Visitors from other countries can fly to the Ballina Byron Gateway Airport nearest them and take the scenic drive down. The route between Byron Bay and Yamba is only 130 km long. It takes 1.5 hours the drive.
Things to Do in Yamba (NSW)
Yamba attractions offer laid-back beachside living, from exploring the markets to combing the beaches.
Visit Yamba Beaches
Beautiful beaches are the main draw of Yamba. There are 5 beaches in Yamba and many other treasures in the area.
Yamba Main Beach
Just steps away from the town's charming streets are Yamba Main Beach, a tranquil, sandy haven with an amazing ocean pool. The pool is built into the rocks, where seawater flows in, and the tides constantly splash and clean it.
The iconic Pacific Hotel is located at the beach's foot. Rolling waves and bluffs surround it. It is home to the oldest surfing club in the world. There's also a great café, the Kiosk, where you can grab a cup of coffee.
Pippi Beach
Pippi Beach, south of Yamba Point, is a beautiful place to take a sunset walk and enjoy the views. Strong southern swells can whip Pippi, but this stretch of beach, 1.6km long, is beautiful on calm days. If you are travelling with pets, there is an off-leash area at Flat Rock's south end.
Turners Beach
Turners Beach is the most popular beach in Yamba. It's the ideal spot for swimming, surfing, and fishing. It is located just a short distance from the town centre and on the opposite side of Main Beach to the Yamba Lighthouse. Take a picnic to enjoy an afternoon fishing from the break wall while the surfers beat the waves.
Whiting Beach
Despite the waves roaring at Pippi, the protected cove at Whiting Beach is calm and peaceful. Whiting Beach, located just a few minutes from the town, is a great beach for children or those who want to take a slow paddle.
Convent Beach
Convent Beach's shaded shores are tranquil and private despite being right at the edge. Convent Beach is surrounded by lush vegetation and rocky bluffs, making it feel secluded and protected. Convent Beach gets its name because of the former nunnery, which used to overlook it. This nunnery has since closed. Although it is not the best place for swimming, it makes for a great spot to relax and watch dolphins.
Visit Angourie Point + Blue and Green Pools.
Surfing is a priority for you, so head down to Angourie Point and hit one of Australia's most popular right-hand point breaks. This small village on the coast is only 10 minutes from Yamba. It is worth a visit. Angourie, a national surfing reserve, has a list of amazing beaches to explore.
Spend the day at Back Beach and Spooky's before moving up to the Lookout for postcard-worthy views that are likely to include whales or dolphins.
Angourie's Green and Blue Pools are not only great for surfing but also a must-see for travellers to the Clarence Valley. Locals love the freshwater pools, which are believed to have been formed by an old mining quarry. The brightly coloured water seems endless and is a haven where you can cliff jump. Take a refreshing dip after a hot day and head to Cafe Angourie to enjoy a delicious vegan bowl or a cup of coffee.
Enjoy Scenic Walks
Explore the Clarence Valley and retrace your history.
Historic Yamba Hill Walk
Two historic walks take you to some of Yamba's most famous landmarks. The Yamba Hill Walk, a four-kilometre walk around the town's perimeter, takes approximately 2 hours. The Flat Walk, which is 3km long, explores the north side of town at sea level.
Both tracks are self-guided and follow Matthew Flinders' footsteps. You will pass FlindersWell, the Yamba Lighthouse and the Yamba Museum, where you can get a trail map.
Turner's Breakwall
The breakwall at Turner's Beach makes a great spot to take a walk and enjoy the views of the surfers. You can enjoy a spectacular view of Turners Beach from the rocky wall that extends into the Clarence River. It's one of the most popular spots for fishing in Yamba, and you're likely to see anglers lined up at the break wall.
Yuraygir Coastal Walk
The Yuraygir Coastal Walk can be a great option if you feel adventurous and have a few extra days in Yamba. The multi-day hike begins in Angourie and travels 65 km to Red Rock through Yuraygir National Park. It is a spectacular hike that takes you through stunning scenery, including beaches and lagoons and rocky headlands, along old trails used by coastal emus. It takes about 4-5 days to hike one way and offers many opportunities for swimming, snorkelling, camping, and wildlife observation.
Visit the Markets
Yamba River Markets is packed every Sunday with stalls selling local clothes, jewellery, and food. It is a great place to browse and see the work of local musicians and artists.