Gibb River Road Itinerary – The Ultimate Road Trip Guide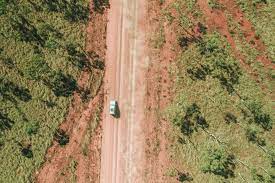 The Gibb River Road is a dream road trip for those who love beautiful swimming spots, stunning waterfalls and rocky gorges. This road runs for 660km and cuts through the stunning Kimberley Region, offering breathtaking views, hiking, and hidden swimming spots.
The famous Gibb Track used to be a difficult road trip that was only suitable for extreme outback adventurers. With the improvement of roads and facilities along Gibb, the road trip has become more accessible for anyone who drives a 4WD vehicle.
The Gibb River Road was a beautiful road that we explored for almost two weeks with Tilly, our 4WD Tilly and the Troopy in June 2021. It was one of our favorite adventures during our half-round of Australia.
The Gibb River Road
The legendary Gibb River Road connects Derby to Kununurra and Wyndham in the east. This stretch of 660 km was originally intended to transport cattle through the Kimberley Region, but it has become a popular tourist destination.
Gibb River Road:
 When is it Accessible?
The Gibb is located in the heart of the Kimberley Region in Western Australia. It has a distinct dry and wet season. Typically between May and October. Road conditions can change from year to year. Therefore, opening dates for individual Gibb River Road attractions may fluctuate by a few days each year.
The Gibb River Road adventure's highlight is not the drive but all the stops and detours that allow you to visit national parks, cattle stations, and ancient gorges. This road takes you to the unique locations you won't find elsewhere in the West Kimberley.
Gibb River Road:
 How long does it take?
The Gibb River Road can be traveled in 5-7 days from start to finish. It's 660km of mostly unpaved road, with many creek crossings and worthwhile stops. Most travelers set aside at least 1-2 weeks for the trip. Some people end up spending months exploring the area.
Gibb River Road:
 How difficult is it to drive?
Road conditions along Gibb River Road can vary depending on weather, traffic, and year. The Gibb is graded at the beginning of each dry season, typically around May/June. Road conditions will be at their best after the grader has finished. They become rougher as more vehicles cross the corrugations. There are water crossings and large dips. Many loose, sharp rocks. The grooves may be quite deep.
However, it is not the best indicator of road conditions but the vehicle you are driving. Gibb River Road is quite wide and made from packed gravel. Some call it the "roughest road in Australia", while others consider it "a piece of cake". The Gibb was an easy road for our 4WD Land Cruiser Troopy. Although some sections were difficult, we found them to be very comfortable.
We were very fortunate. We are grateful that we did not have any mechanical problems or flat tires along the way. We know too many travelers who weren't as fortunate.
All of this suggests that the Gibb River Road can provide a pleasant and easy journey. However, it requires a reliable 4WD vehicle and preparation. Check out the condition for road closures.
Are You able to drive the Gibb River Road without a 4WD?
Although technically, a 4WD vehicle doesn't need to be used for the Gibb River Road, it is HIGHLY recommended. High clearance is necessary to cross all the water crossings. Many people wonder, "Do you need a snorkel to cross Gibb River Road?" The answer is dependent on when and how high your car clearance is.
Our June trip did not see any water crossings over 500mm. However, don't base your trip planning on data from previous years. For the latest information on road conditions and water crossings, hop on the Facebook Group.