Get Travel Accessories to Make Your Trips More Efficient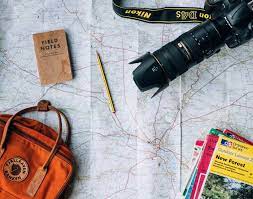 Most people already own at least one travel accessory, such as a luggage tag and a set of TSA-approved travel bottles. These items can make your trip more enjoyable, even for sporadic travellers. But if you travel often, you will likely be constantly on the lookout for things to help you navigate your journeys. You might be looking for the perfect solution to your problem of tangling your cords while travelling, or you have a favourite item that you wish you had in another country.
Travel accessories are now more beautiful, practical, and well-engineered than ever before. The days of the boring beige money belt are gone. Why settle for a plain, weatherproof crossbody bag? Or a premium leather passport case? There are so many options that you can choose from to help ease your travel woes, even if your style is not compromised.
These are the best travel accessories that you can find to make your trips more enjoyable.
Superlight Backpack
A lightweight and durable backpack can be used for short trips on the trail or to carry your personal belongings onboard planes.
The Daypack, though it is only one member of Bellroy's minimalist line, can be folded, rolled or stored compactly away when not in use. It folds up very small and is three times lighter than typical pack fabrics. You don't need anything that will make it uncomfortable, but there are enough features and dividers to make it enjoyable to use.
Compressible packing cubes
Monos' Compressible packing cubes are one of the best luggage accessories to add to your travel gear.
All packing cubes make it easy to distinguish between different items and keep you organized. However, these packing cubes have a 360o compression zipper that gives you twice the space in your suitcase. These cubes have a mesh window that allows you to identify what is inside quickly. They also come in three neutral colours, which can be coordinated with existing luggage. Monos products last for years, unlike other bargain brands.
Packable Shower Towel
The NanoDry Shower Towel, a full-size towel with a small footprint, is infinitely portable. The towel measures 52×24 inches and folds down to just three by five. It can be stored in a small travel bag. This fabric's real advantage is its nanofiber construction. It can absorb almost four times as much water as it weighs, and it dries extremely quickly.
Trustworthy Travel Shoes
The Tropicfeel Canyon is easily one of the most popular travel shoes. This innovative version from the already iconic brand is undoubtedly the best. These shoes are made to be worn on the trail and in the water. They have drainage holes and a quick-drying fabric upper that allows you to switch between them easily. These lightweight, compact packs are great for technical hikes and travel. They don't even need socks.
Tech Pouch
The perfect way to organize all your adapters and cables, Peak Design's Tech Pouch is the solution. There are a variety of pockets, dividers and pouches inside that can be used to store a wide range of items. It is weatherproof so that its contents are safe. If you want to carry the bag on its own, some loops can attach to a shoulder strap.