EPIC PLACES TO VISIT IN SRI LANKA – THE ULTIMATE BUCKET LIST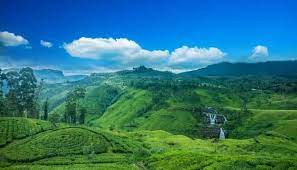 Sri Lanka is the ideal destination for those seeking a vacation after the pandemic. This tropical paradise is located in the Indian Ocean, just off the coast of southern India. Sri Lanka, under British control for 150 years, gained its independence in 1948. It became a popular tourist destination. Ceylon was once known as Sri Lanka. This country is known for its beautiful beaches, amazing wildlife, and endless tea plantations. This blog post will take you through 25 must-see places in Sri Lanka.
MIRISSA COCONUT TREE HILL
Coconut Tree Hill is one of the most visited Instagram spots in Sri Lanka. It can be found just past Mirissa beach and is a rocky outcrop of palms at the sea's edge. It is a beautiful spot ideal for watching the sunrise or sunset if you are an early bird. This spot is very popular during sunset and early morning, so if you are a keen photographer, we recommend going there before sunrise.
You might be able to spot a turtle surfing the waves if you are lucky. It's a wonderful experience to see these amazing creatures from the water. Coconut Tree Hill, in our opinion, is one of the most beautiful places to visit in Sri Lanka.
DAMBULLA CAVES
Dambulla Caves can be found approximately 30 minutes away from Sigiriya Rock and about two hours from Kandy. This sacred spot is home to the largest and best-preserved cave complex in Sri Lanka. It is a UNESCO World Heritage Site and consists of five different caves, each with its statues.
The 'Golden Temple of Dambulla,' a Buddhist complex, is known officially like this. It has been a pilgrimage spot for more than 2,000 years. There are over 150 Buddha statues within these caves and many murals. The Maharaja Vihara Lena, or the Cave of the Great Kings, is the largest cave. It is home to the statues of Valagambahu and Nissankamalla, two ancient Sri Lankan Kings.
We will tell you one thing: don't forget your water bottle. It takes quite a bit of effort to reach the top. You'll also feel the heat from Sri Lanka's humidity if you don't stay hydrated. It's best not to let the monkeys steal your water, as they can be quite cheeky!
UDAWALAWE NATIONAL PARK
A safari in Udawalawe National Park, if you are a lover of wildlife, is a must. The national park was founded in 1972 and is very popular among tourists. It is home to the Sri Lankan elephant and is considered one of the most beautiful national parks in the country. The Udawalawe reservoir, which attracts the elephants into the park during dry seasons, is the main reason. You may also see jackals and leopards and sambar deer, sambar deer, water buffalo, and crocodiles. Udawalawe National Park is a must-see for animal lovers.
You can find many companies offering safaris in Udawalawe National Park. But make sure to do your research. Many tour companies use crowding to get a better view of animals, and it is not ethical. This is a bad practice that can be harmful to wildlife. It's best to check out reviews before choosing a company.
NINE ARCHES BRIDGE
The Nine Arches bridge should be on your list if you plan to visit this beautiful country in the future. The bridge is a must-see in Sri Lanka, and you have many options to view it from. It is situated in Ella, a mountain community surrounded by tea plantations and lush green forests.
The impressive Nine arches bridge is 30m high, and it can be found between Ella and Demodara train stations. This bridge is where trains cross at different times of the day. It offers great opportunities to capture amazing photos. Check with the owner of your accommodation for exact train times. While you wait for your train, there are many places to explore. There is also a cafe nearby.
MIRISSA BEACH
Mirissa beach is one of the most beautiful beaches in Sri Lanka. Don't miss your chance to enjoy it during your vacation! This beach offers something for everyone, whether you want to relax with your towel, go snorkelling, or try surfing. Surfers should head to the west end of the beach, where waves can be quite big, and the beach is calmer. If snorkelling appeals to you, then we recommend Parrot rock. Here you can see many colourful fish!
You will find a wide variety of delicious food options on the beach, including tasty Sri Lankan curries and western cuisine if you want a little bit of comfort food. Restaurants will light candles and lanterns as the sun sets, making this a great time to enjoy delicious food. Mirissa beach isn't crowded like other beaches in Sri Lanka. It has a very relaxing atmosphere and is a great place to go.