California's Most Beautiful Places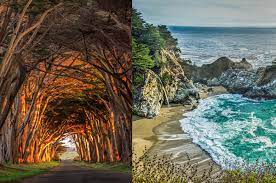 California is the third-largest state in the US. It's jam-packed full of cultural, natural and urban attractions. You can drive to the nine National Parks or zip between busy cities and desert oasis. There are many opportunities to explore the stunning scenery, no matter how you slice it. Here are the top places you should visit when visiting Cali.
Big Sur
Photo by Cristofer Maximilian via Unsplash/Edited By Travel Away
Big Sur is one of Central California's most beautiful areas. It boasts dramatic cliffs and stunning ocean views. Although the beaches aren't ideal for swimming due to strong currents, they are perfect for relaxing and enjoying beautiful sunsets. Pfeiffer Beach is Big Sur's most photographed beach. It attracts many people, as it can turn purple due to the presence of manganese garnet rock. Keyhole Arch is a popular rock formation for photographers.
Further north is more treasures, including the Bixby Bridge, built-in 1932 at an incredible bargain price of $200,000 US Dollar. Engineers carefully chose to use cement for its construction, as it would blend in better with the natural landscape. This bridge spans 260 feet. Today, these engineers are remembered by Californians for creating one of the most iconic sites in California.
Death Valley
Death Valley National Park is a place where extremes are possible. It is the lowest point in North America, with Badwater Basin's salt flats at 86m (282 feet) below the sea level. The Furnace Creek Ranch also recorded the highest temperature in the world (56.7°C /134°F). Yet, the backdrop is filled with wildflowers and snowcapped mountains.
Death Valley is also a place that inspires endless curiosity. Rainbow-coloured rocks make up Artists Palette. The curvaceous Eureka Dunes dunes "sing", and small ghost towns are scattered throughout the park. Science has many answers, including the oxidation of metals colouring rocks and the "singing" of shifting sand grains. But some mysteries will never be solved. Racetrack Playa is a dry lakebed where rocks weighing hundreds and thousands of kilograms move a great distance leaving trails. Stargazing is possible here because of the unobstructed views and lack of light pollution.
Santa Monica Pier
Santa Monica is the most common image you associate with a classic Southern California city. The beachside paradise has everything you need: tall palms, picturesque boardwalks, and more tacos than you could ever want. You'll find vibrant murals throughout the downtown and excellent restaurants that cater to every taste. But the real star of the town is Santa Monica Pier.
The Pier is packed with sunbathers, friends playing beach volleyball and others. The best place to see the sunset – Pacific Park is a mini-amusement and entertainment park that lights up at night.
Catalina Island
Catalina Island can be reached quickly from the mainland, but it feels like you are in another world. It is part of Channel Islands National Park and attracts many travellers, from history buffs and outdoor enthusiasts to those who want to relax and unwind.
Avalon Bay is the most popular area. This charming seaside resort has beautiful views of the ocean and an energetic atmosphere. There are many shops and restaurants here. It is also home to the Catalina Wine Mixer, a wine and music venue that Will Farrell made famous in Step Brothers. Many films have been shot here, including one that involved bringing bison to the island in the 1920s. Producers didn't find it easy to get them back together, so descendants of the bison still roam the island. The Catalina Island Conservancy now protects it.
Avenue of the Giants
The Avenue of Giants is the perfect place to make you feel small. The Humboldt Redwoods State Park in Northern California is home to this unmissable drive. It also contains a large concentration of Redwood trees. As the road gently curves through immense tree groves, visitors can enjoy the lush greenery and forest vegetation as they cruise for 50 km (31 miles).
There are trails along the route that let you wander into the woods to enjoy the beauty of some of the oldest trees in the world. It is a memorable experience to be surrounded by Redwoods, thousands of years old, that can reach heights comparable to skyscrapers.
El Matador State Beach
Malibu, a charming coastal city with stunning beaches and breathtaking scenery, is one of the most beautiful. Although it is home to many celebrities, the high prices of its housing attract surfers. Malibu blends upscale amenities and a relaxed environment to attract a wide range of people.
Locals and tourists flock to the many small beaches along the coast, but Matador State Beach is renowned for its impressive sea stacks. Enjoy a picnic by the cliffside and then head to the beach to explore the rock arches or sea caves. Before you know it, the sun will set and put on a colourful show at night.