Best Melbourne Weekend Getaways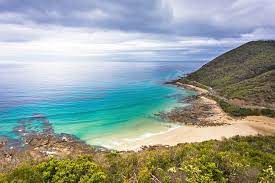 Melbourne is often ranked as the most liveable city in the world. It's an amazing destination, but there are many reasons to make a weekend trip to escape the city. Melbourne has many amazing places to explore, rich with history, nature, and culture. They are easily accessible from anywhere.
There are many ways to spend a weekend in Victoria, from driving along Australia's beautiful coastline to tasting chardonnay at one of Australia's top wine regions.
Here's a guide for weekend getaways from Melbourne if you want to get out of the city.
Great Ocean Road
This famous road trip is a must-see in any guide on weekend getaways. The Great Ocean Road runs 243km between Torquay, Allansford and Melbourne. It is known for its stunning rock formations and rugged scenery. The coastline has been formed by wind, water, and other forces over time. A weekend road trip is the best way to see the entire area. Distance to Melbourne: It takes 105km from Melbourne to Torquay, the official start point of the Great Ocean Road. This is about a 1.5-hour drive.
How to get there/How do you get around: Renting a car is the best way to travel along this coastal road. You can stop at any point you like and take in the views. Alternately, you can also walk a portion of the Great Ocean Road along the Great Ocean Walk, from Apollo Bay to The Twelve Apostles.
Things to Do along The Great Ocean Road
Torquay has been called the surfing capital of Australia, so get down to Bells Beach and join the pros if you're a little bit of a pro.

Lorne has a beautiful beach and is a favourite stop on the coast road.

It would help to visit the Otway National Park to see its stunning inland forested hiking trails.

You can end your Great Ocean Road trip in Port Campbell National Park at the Twelve Apostle lookout.

Where to Stay 

Desa Retreat 

Two modern eco-villas are located in Torquay, just a few steps from the beach. This is the ideal weekend getaway accommodation.

Where to Eat/Drink The 

Bottle of Milk

 is a well-known restaurant in Lorne for its burgers and brunch menu. 

Sow and Piglets

microbrewery in Port Campbell are great places to get craft beer.
Yarra Valley
The Yarra Valley is a popular destination for weekend getaways because of its rolling hills and beautifully manicured vineyards. While it is most well-known for its premier wine region, there are plenty of activities to keep you entertained for the entire weekend. The two main towns in the region are Yarra Glen and Healesville. They are a short drive from Melbourne and make great quick getaways. You can winery hop from these towns or hike in the Yarra Mountains National Park. Enjoy fine dining and delicious gourmet experiences at the Healesville Sanctuary.

How do I get there? Renting a car is the best way to reach the Yarra Valley. You can also make stops along the route. You can arrange a day trip to Melbourne. It would help if you stayed at least one night to get the most out of the region.
Things to Do in Yarra Valley
You can get close to many Australian native animals by visiting the Healesville Sanctuary.

You can taste the best wines from countless wineries such as Rochford Wines and Boat O'Craigo. Greenstone Winery and Soumah in Yarra Valley.

You can either walk or bike some of the Yarra Ranges National Park trails or explore further afield in Dandenong Ranges.
Where to stay: For an off-grid, unique experience, visit The Canvas B&B in Warburton. Tuck Inn Yarra Valley is a quality, comfortable experience located in Healesville. It was originally constructed over a century ago.
Where to Eat/Drink: Mocha and Lime are cosy, rustic cafes that offer local produce and vegan options. Meletos offers fine dining in a stunning setting amongst the vineyards.
Mornington Peninsula
It is hard to believe you can live just an hour away from Melbourne in beautiful seaside towns and sandy beaches. This is why the Mornington Peninsula is a great short getaway from Melbourne.
It is home to many bustling cities and various boutique shops and restaurants. It is known for being one of the most romantic getaways from Melbourne. It is surrounded by beautiful, quiet accommodation options along the coast.
Distance to Melbourne: Mornington lies 70km southeast of Melbourne, or a one-hour drive.
How do I get there/How do I get around: Like most Victoria weekend getaways, it is best to own your car to explore the various beaches and towns along the coast at your own pace.
Things to Do in The Mornington Peninsula
Visit Arthurs Seat. It is the highest peak in the area and can be reached by a short steep climb or a gondola.

The Peninsula Hot Springs offers a relaxing experience popular for couples' retreats or girl's weekends.

You can visit some beautiful seaside towns further up the coast. For white-sand beaches popular with families, you might want to try Rosebud or Sorrento, more popular for couples.