Beautiful Architecture in Europe's Churches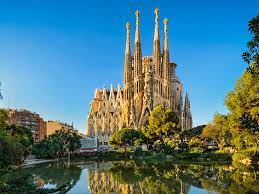 Although you might think that the main thing distinguishing a church from its cathedral is its age or size, the fact that a cathedral can seat a bishop is the defining factor. Europe has many magnificent cathedrals. However, its churches are just as impressive, if not more, because they adopted Christianity in their early days. Some of these churches were later declared minor basilicas by Pope Francis, but others were left untitled or turned into museums or tourist attractions.
Many of these buildings are nonetheless impressive and worth a visit. Even if you are familiar with Europe's most iconic cathedrals, it is worth taking a second look at Europe's stunningly designed churches.
Sagrada Familia, Barcelona
La Sagrada Familia, the jewel of Barcelona and the masterpiece of Antoni Gaudi's Catalan architect Antoni Gaudi are still under construction. Despite its immense size and height and all the meticulous work that went into its construction, Sagrada Familia is a minor basilica. It was dubbed so in 2010.
This masterpiece is a stunning example of Spanish Modernisme. Gaudi combined elements from the Gothic Revival with Art Nouveau to create it. Many tourists only visit the church to view its exterior. However, the interior is a dreamlike haven for those who brave the crowds. Its pastel-hued stone pillars have been sculpted to resemble trees, emulating a forest.
Basilica di Santa Maria Della Salute, Venice
This church was built in response to the Venetian Black Plague outbreak. It was officially dedicated to Our Lady of Health to invoke better times ahead. The Basilica di Santa Maria Della Salute is one of many "plague churches". It contains a lot of art that depicts or was inspired by elements of the plague.
It is a Baroque masterpiece found at the Punta Della Dogana's end. This makes it the first thing you see upon entering the port by boat. Its dome is a particular landmark on the Venetian skyline.
Mary's Church, Gdansk
The Baltic Sea's largest brick Gothic church is a landmark in Gdansk. It can accommodate up to 25,000 people. The nave vault makes it seem even bigger.
One of the most impressive examples of a Gothic astronomical clock is in St. Mary's Church. It was built over six years in the mid-1400s. It shows more than the time. It also incorporates other metrics such as the moon's phases and a calendar with saints. It suffered damage during World War II but is still functional due to meticulous restoration.
Perissa: Church of the Holy Cross
The blue-domed churches of Santorini have become a symbol of the island. Perissa's is the largest. The Church of the Holy Cross, located in the centre of the town, is a landmark built in the 19th Century. It was destroyed by an earthquake in 1953.
It's a great example of classic Cycladic architecture. It has the same white-washed walls as you would expect and has cobalt accents. It also has a bell tower with many tiers you can climb when it is open.
Santa Maria della Spina, Pisa
Although small, Santa Maria Della Spina exhibits a perfect example of the Pisan Gothic style. It packs an amazing amount of artistry for its small size. Its exterior walls are entirely Italian marble and covered in intricate relief and sculpture.
It was named after the principal relic that once belonged to the church, the spine. This is the thorn believed to have been part of Jesus's crown at his crucifixion. It was first placed there in the mid-1300s after it was consecrated. Later, it was moved to the Chiesa di Santa Chiara to be displayed.
Church of the Transfiguration on Kizhi Island
The deceptively simple Church of the Transfiguration (Kizhi Pogost) can be found on one of the more than 1000 islands that make up Russia's Lake Onega. It may appear small and simple, but closer inspection reveals its incredible craftsmanship and skill.
Remarkably, no nails were used for its main construction. Instead, interlocking logs were used, and dovetail joints were used. Only 22 onion domes are attached to the building's 22 decorative aspen-wood tiles with nails.
Church of the Assumption of Mary Lake Bled
The Church of the Assumption of Mary, one of Slovenia's most visited tourist attractions, is located on a small island within Lake Bled. It is commonly known as Mary on the Lake. However, the Church of the Assumption of Mary was severely damaged by an earthquake in the 1500s. The Baroque style restoration in the 17th Century gave it a Baroque look it has today.
You can only reach the church by Pletna. This is a type of wooden boat known for its colourful awnings. For amazing views of the entire island and surrounding area, climb the bell tower once you have reached the top.