9 Must-Do Things in Broome, Western Australia: Comprehensive Guide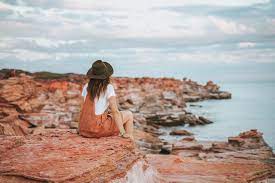 Broome, located in the Kimberley Region of Western Australia, is home to only 14,000 residents. It is surrounded by the turquoise waters of the Indian Ocean. Cable Beach, which measures 22.5km in length, is the most famous.
Broome is where the sun sinks into the ocean, and red cliffs meet blue waters in perfect harmony. It highlights Australia's Dinosaur Coast and is a must-see in North-Western Australia.
It is one of our favorite destinations in Australia.
This Broome travel guide will help you plan your next trip.
How to Get There
Broome is located in northern Western Australia. It is approximately 2,000km from Perth and Darwin. Broome's International Airport is the best way to get there. There are daily flights from Perth and Darwin and seasonal flights from Sydney and Melbourne. Broome can be reached by road, which is much more convenient than the 22.5-hour drive from Perth. Broome can be reached by driving along Highway 95 from Perth or via the Gibb River Road and Stuart Highway through Kununurra in NT or Queensland. These two trips provided breathtaking scenery you won't find anywhere else.
Best Time to Visit Broome
Broome is best visited in the dry seasons, usually from May to October, when it's warm and sunny, the nights are cool, and the sky is clear. Imagine sunny days at 30C and cool evenings at 15C. The tropical climate of Broome can make the wet season very hot and, yes, even rainy. While you will find lower summer travel prices, many hotels and tours don't operate during this season.
Things to Do in Broome, Australia
Broome's tourist attractions focus on enjoying the stunning wilderness along the Broome coast and unique cultural experiences. Get a taste of laid-back living, explore the beaches and enjoy delicious food.
Live a Laid Back Lifestyle
While children play in the grass, you can go through streets lined with bohemian-style caravans. The sounds of Bob Marley's classics can be heard in the distance as laughter blends with the sound of laughter. The once quiet outback pearling town has become where outdoor adventure can be enjoyed, and relaxed beachside living is encouraged. This area is a favorite of Australia's grey nomads, who travel to Broome every 3-6 months to escape the winter cold. It is easy to relax in a chair with a book or a beer and soak in the afternoon sun.
Cable Beach
Broome has one thing you should do: Grab a blanket and head to Cable Beach. We guarantee you will be surprised! It's the most popular attraction in Broome. However, it feels almost isolated. On a busy day, you can find just a few lounge chairs scattered on the sand at the beach.
Enjoy a stroll down to the southern end of Broome's beach near the swimming area. For the ultimate beach experience, you can drive your 4WD to the northern end of Broome Beach.
A trailer can be found at the end of the beach, offering a variety of activities to make your day more fun. You can hire umbrellas, loungers, boogie boards, stand-up paddleboards, and surfboards for your little ones. Cable Beach has many activities for everyone, whether they are active or not. You don't need to take a refreshing plunge in the ocean – just lay down on the white sand and enjoy the sun. Cable Beach is generally safe for crocs. However, be aware and follow all local warnings as saltwater (estuarine crocs) has been known to move into the beach areas.
Enjoy a spectacular Cable Beach Sunset.
Sunset is a great choice if you are on a tight budget or looking for -free things to do in Broome. It's magical to watch the sun sink into the ocean. We have lived on the East Coast for so many years. We admit that we don't wake up at sunrise every morning, but sunsets are something we love to see.
As the colors change, you can relax and observe. The sun's warm glow reflects off the blues and creates a mix of yellow and golden shades.
As the sun rises, you will likely see a train of camels in the distance. On a sunset camel ride, the camels will slowly move along Cable Beach with tourists. Make sure to bring your camera for that perfect shot.
You can't go to Broome beaches without having a sundowner. After a long day, enjoy cocktails and snacks at Zanders before heading out for a relaxing sunset walk along the beach.