8 TOP WATERFALLS IN BALI TO EXPLORE FOR ADVENTURE SPEAKERS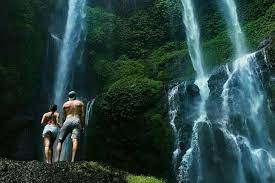 It is said that you shouldn't chase waterfalls. However, we disagree! Bali is a popular destination because of its beautiful scenery, incredible culture and wildlife watching opportunities. This list has everything you need to spend a day exploring Bali's waterfalls. Here are our top 8 Bali waterfalls.
SINGARAJA GITGIT WATERFALL
Gilgit is located in Singaraja, North Bali. It's easy to find and easily accessible by road. This will allow you to satisfy your hunger and take you to Bali's waterfalls. Gilgit is a popular attraction in Bali due to its accessibility. There are many food and beverage stops along the trail and numerous arts and crafts shops. The waterfall is approximately 35m high, and it is surrounded by dense jungle. If you are lucky, wild monkeys can be seen hanging out in the trees drinking from the waterfall. Couples who bathe under the waterfall together will soon separate…
SEKUMPUL WATERFALL IN SINGARAJA
Sekumpul Waterfall is Bali's most spectacular waterfall. It can be found in the village of Sekumpul. It isn't easy to see the waterfall up close, so it is best for experienced adventurers. It involves a treacherous staircase, a river crossing, and a dirt road. This is a long, difficult trek, but it is well worth the effort. Although you can hire a guide to help you see the stunning landscapes up close, Sekumpul Waterfall can be best seen from afar, so you can appreciate its grandeur. Sekumpul Waterfall is made up of seven distinct falls. Each one reaches incredible heights into the trees and dumps different amounts of water. This one will stay with you for a while, and it is great for taking lots of photos for Instagram.
PETANG NUNGNUNG WATERFALL
Nung Waterfall can be found nine hundred meters above sea level, in a small village in the middle. It is a beautiful drive with lush green rice terraces all around. Although the parking lot is easy to find, it's a steep climb once you get there. It will be loud and clear as thousands of gallons of water crash into the pool below. You'll see the waterfall from fifty meters high when you reach the top of the 509 steps and have reached your daily step goal.
BANYUMALA TWIN WATERFALL AT WANAGIRI
Banyumala, located in Wanagiri's hills about 10 minutes north of Bedugul, is stunning. Although you don't need to hire a local guide, there are some slippery steps and a short climb to the base. It is well worth it. Two streams of water are visible at the waterfall, which is surrounded by stunning nature. You can take a refreshing dip in the bottom pool and then listen to the water cascading below. This is Mother Nature at its most magnificent!
YEH MAMPEH WATERFALL SINGARAJA
Yeh Mampeh Waterfall is located in Les, one of Bali's tallest waterfalls. Yeh Mampeh is a well-known name and almost undiscovered waterfall. You can hike down the falls or explore the nearby caves. Or you can enjoy the stunning views of the green hills and the clean, fresh air. This stunning natural setting is the perfect place to unwind and get away from all the noise and hustle. You won't regret it!
ALONG-ALONG WATERFALLS IN SAMBANGAN
Attention adrenaline addicts: How does it feel to slide down a waterfall that is 35 meters high? Yes, it's quite amazing. You can see this natural water slide in Aling-Aling Waterfall, Sambangan village. This one is a must-see, and you'll need to wear your bikini. It has a beautiful, clear plunge pool with a shower-like spray. It cascades down a cliff and is surrounded by tropical rainforest. This waterfall is spectacular from far away. It can be strenuous, as you will need to trek over rice fields and climb many stairs. You will be happy once you reach this beautiful haven. Along-Aling, located near seven waterfalls in northern Bali, can be used for day trips.
NIAGARA MUNDUK IN BULELENG
Niagara Munduk — Bali's Niagara Falls — is located in the rainforest near Munduk Village, Buleleng. Three falls are found in the area. The most spectacular is Niagara Munduk. This waterfall has been compared to a movie set by tourists. The waterfall is fifteen meters high, and the surroundings, including the twin lakes, are equally stunning. Munduk is a great place to find inner peace with rice fields and spice plantations. You can also enjoy a meal and a drink at the restaurant before you continue one kilometer to the main Munduk Waterfall (or Melanting Waterfall), where you can swim in the water.
TIBUMANA WATERFALL in BULELENG
It's not enough to admire waterfalls from afar in Bali. We want to get in and swim around the natural refreshing waters. The Tibumana Waterfall is a great place to do just that, thanks to its large pool of water at a base of a beautiful stream. It's a flat pool that is great for swimming and can be used to splash around for hours. The best part about it is that it is only 10 minutes away from Ubud. You can walk across bamboo bridges or along palm-lined footpaths to get there.
There are many amazing places and activities to do in Bali. We can guarantee you that you will find plenty of options no matter what your travel preference. You don't have to be a fan of waterfalls. Instead, visit Bali's beaches and enjoy brunch at some of the most renowned cafes around the globe.