10 MUST-TRY FOODS IN OSAKA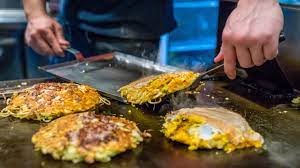 Japan is a popular destination because of its unique culture, futuristic lifestyle and delicious food. Osaka is the place to be if you're looking for the best Japanese food. Here are 10 must-try foods to try when you travel to Osaka. This is especially important if your trip is planned after the pandemic in Japan.
SUSHI & SASHIMI
We had to start with Sushi. All Japanese restaurants offer Sushi and sashimi in their restaurants. The freshness and quality of Sushi and sashimi from Japan are unmatched. Although you can find Sushi in other countries, this food may be the only one worth traveling to.
JAPANESE CURRY
Japanese curry is the ultimate Japanese'meat-and-potato' dish. This must-try Osaka food list includes many delicious dishes, but Japanese curry is the most comforting. For those who aren't great cooks, you can also buy a box of Japanese curry base at an Asian supermarket. Cook it with some beef, carrots, and some spices. You can serve it with a side dish of rice. This dish is easy to prepare, making it very popular among students across Japan.
TAKOYAKI
People think of Takoyaki when they think about Osaka food. The most popular thing to eat in Osaka is Takoyaki, which are little batter balls filled with pieces of octopus. You'll find many takoyaki sellers in Osaka when you arrive. They are often the busiest spots in the market.
Takoyaki is a portion of delicious Japanese food that should be eaten immediately. It should be crispy at the edges and soft in the middle. It would be best not to wait to enjoy your meal once you receive it.
OKONOMIYAKI
Okonomiyaki is another Osaka-based food. It's described as a large pancake. The best thing about eating Okonomiyaki is being able to watch it being made and sharing it with your friends.
The batter mixture recipe contains flour, eggs, dry fish stock, and sometimes many finely shaved chopped cabbage. After the batter has been mixed, it is fried on a hot griddle. The hot grill will be right before you, often with all the ingredients; you need to make the okonomiyaki version you want.
ODEN
Oden, also known as winter food in Japan, is made with various ingredients and broth. It is prepared with soy sauce and dashi. Oden can also be purchased at Lawson and 7 Eleven.
UDON
Udon noodles are Japanese thick, chewy noodles made from wheat flour. They can be served in many different ways. Udon noodles can be served with curry, hot soup, cold soup or even dried with a dipping glaze. Udon noodles are usually less spicy than ramen, so it is an excellent alternative to ramen.
KUSHIKATSU
Kushikatsu, another home-grown Japanese food, is a popular choice in Osaka. Kushi, which is Japanese for skewers, and katsu means breaded and deep-fried foods, roughly translates to Kushi. This popular street food comprises a variety of vegetables and meats that are skewered and coated in a batter before being deep-fried until they become crispy and golden brown. The sauce is what makes kushikatsu so special. It has a Worcestershire sauce-like flavor. The sauce makes a delicious dip for a crunchy fried stick.
RAMEN
Japan is a country where everyone values their ramen and is passionate about their favorite ramen spot. People will line up for hours to get a bowl of hot noodles with rich broth. Ramen is a Japanese dish that is loved by many. If you ask locals their favorite place to eat it, they will be able to give you a passionate answer.
IZAKAYA / YAKITORI
Japanese pubs also offer small plates of delicious food that are a fan favorite. Izakaya restaurants serve small plates focusing on one flavor and high quality. The dishes can include slices of tuna belly or grilled skewers made of chicken or pork.
It will be the best-tasting and most succulent chicken you have ever had. You can choose from the yakitori's breast, thigh, and liver in Osaka.
YAKINIKU & HORUMON (JAPANESE BBQ)
Many people associate Japan with Sushi, but Japan isn't just known for its seafood and fish. Osaka is also home to grilled Japanese meat and beef.
Japanese beef is a favorite of meat lovers. Kobe beef is one of the most well-known meats in the world. It is made from Japanese wagyu, located in Japan, just a short train ride from Osaka. Osaka offers plenty of Kobe beef for you to enjoy. You can also choose from a variety of Japanese wagyu beef.
We hope you find this Osaka food guide useful and informative. It can be hard to know where to begin when you're trying out new cuisines in another country. We hope this guide helps.